Mediterranean Summer Salad Recipe
---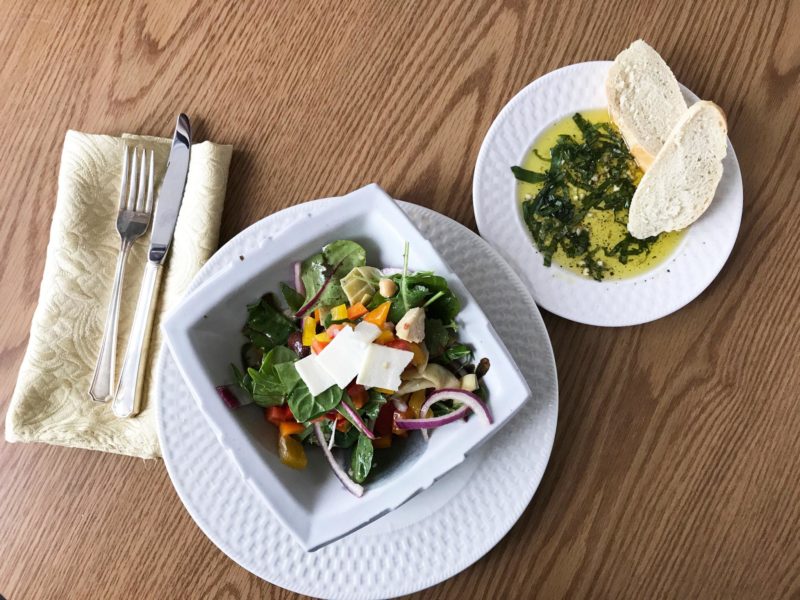 Posted on June 19, 2017

Love the tastes of the Mediterranean but can't afford the plane trip to get there? Bring those flavors to your home with this easy summer salad recipe. You can savor this Mediterranean salad even if you're on a low-calorie, low-carbohydrate (without the bread) or low-sugar diet. Eating healthy never tasted so good!
Here's how you can make this recipe:
Salad Ingredients:
1 bag of mixed greens (we recommend an arugula, baby romaine and baby spinach blend)
3  large bell peppers (we used orange, red & yellow)
1  jar of marinated Artichokes hearts (rinsed & drained)
1 can of chickpeas (rinsed & drained)
24 Kalamata olives
½ cup red onion
2 ounces of shaved parmesan
Dressing
3 tbsp of red wine vinegar
4 tbsp of extra virgin olive oil
1 tbsp of dijon mustard
1/8 tsp of salt
¼ tsp of pepper
1/2 tsp of garlic
1 medium sized lemon
Bread Dipping Oil
1 loaf of French bread
1/8 cup of chopped basil
A dash of Salt
A dash of Pepper
1/2 tsp of garlic
Drizzle of extra virgin olive oil

Prepare Salad:
Dice peppers into bit size pieces
Drain and rinse artichokes, then chop them into quarters.
Drain and rinse chickpeas
Drain olives
Dice onions into slivers
Place salad dressing into bottom of a large bowl
Add mix greens
Toss all other ingredients together
Garnish with shaved parmesan cheese
Nutrition Facts: (6 servings in recipe. This does not include bread and dipping oil.

| | | | | | | |
| --- | --- | --- | --- | --- | --- | --- |
|   | Calories | Carbs | Fat | Protein  | Sodium | Sugars |
| Per Servings | 271 | 23 | 16 | 10 | 604 | 3 |
|  Total | 1628 | 136 | 94 | 57 | 3626 | 19 |
---