Just Roots, Inc. Announced as Frederick W. Fuller, III Where Health Matters Grant Recipient
---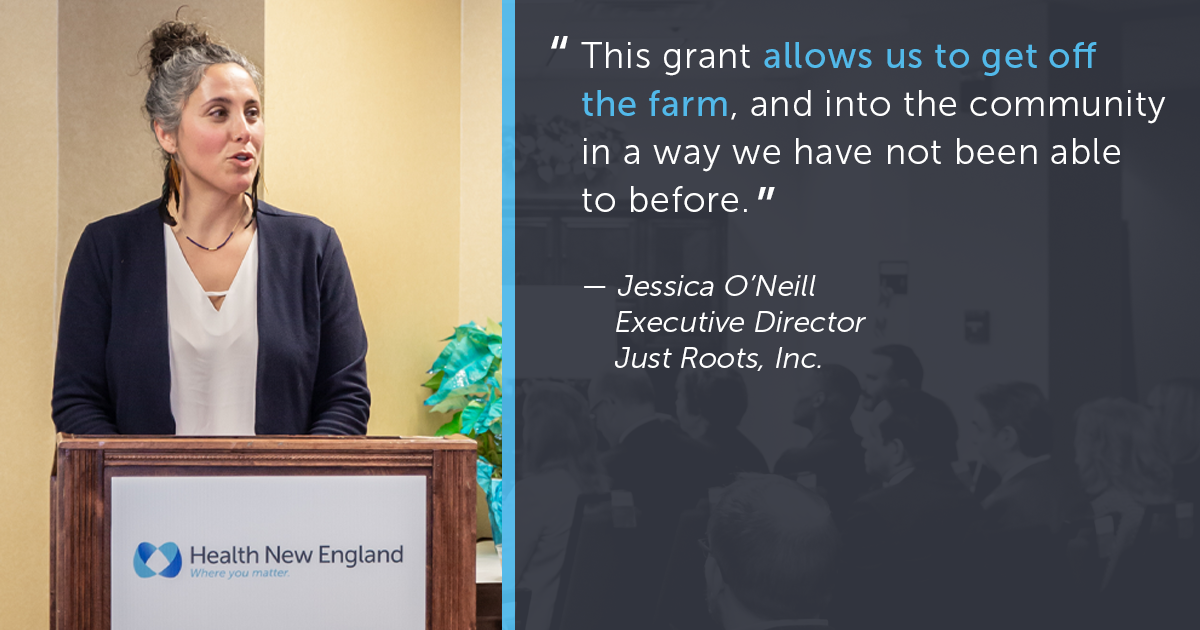 Posted on March 5, 2019

Health New England has awarded four organizations a $50,000 Where Health Matters grant to fund a innovative community based programs. As part of its Community Benefits program, each grant supported one of four focus areas; chronic diseases, food insecurities, infant and maternal health and mental health and substance use disorder.
Just Roots, Inc. of Greenfield Massachusetts, received the Frederick W. Fuller III – Where Health Matters Grant in January 2019, supporting the food insecurity focus area. Just Roots pioneered their Mainstreaming Food Access Program to improve health equity for low-income families in Franklin County by providing access to healthy local food and partnering with a local health center to offer support services.
Forty percent of Franklin County households live in poverty and more than 50 percent of these residents are considered obese. Barriers preventing low-income residents from accessing healthy food include affordability, limited transportation and lack of nutritional and educational awareness.
The Mainstreaming Food Access Program will distribute CSA (community supported agriculture) farm shares on-sire at two major housing complexes in Greenfield. Residents of these communities are able to use their SNAP and HIP assistance benefits to purchase CSA shares.
Partnering with the Community Health Center of Franklin County (CHCFC) is vital to the long term success of the program. A federally qualified health center, the CHCFC will provide wrap around support services such as shuttling residents to Just Roots farm, prescribing healthy food, and referring community members in need to the program. This community based partnership will serve to link local food and health benefits to help reduce obstacles preventing low income residents from accessing healthy foods.
Thank you Just Roots, for your hard work opening up access to healthy food  in Franklin County. We're confident the Food Access Program make a difference by positively influence health outcomes of vulnerable people living in the Greenfield area.
---