Behavioral Health Network Announced as a Where Health Matters Grant Recipient
---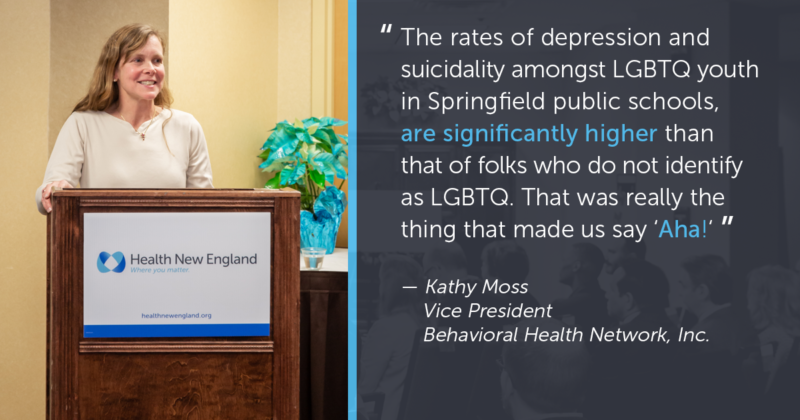 Posted on January 28, 2019

On January 11, 2019, Health New England hosted its inaugural Where Health Matters grant announcement event and awarded four organizations a $50,000 grant to fund an innovative community based program. Each grant program concentrated on one of four focus areas: chronic diseases, food insecurities, infant/maternal health and mental health/substance use disorder.
Behavioral Health Network, Inc. (BHN) of Springfield Massachusetts, received the Where Health Matters grant for their Empowerment Project, addressing the mental health focus area. Their program aims to improve the health and well-being of LGBTQ youth living in Springfield.
The need for the program stems from a shortage of providers specifically trained in supporting the unique needs of LGBTQ youth. Many of these youth experience social isolation and poor behavioral health as a result. In 2016, the Community Health Needs Assessment identified LGBTQ youth as "A vulnerable population for depressive disorders with over 50% of youth in Springfield reporting depressive symptoms in youth surveys."
With additional funding in place to expand upon the Empowerment Project's existing infrastructure, the LGBTQ youth of Springfield will gain access to more comprehensive support services and feel an increased sense of awareness throughout their community. Grant funding will allow for the expansion of BHN's program, increasing existing staff to include a full continuum of clinicians to offer more comprehensive support services that fall outside of traditional medical coverage. Such services will include support groups for parents and siblings, as well as peer-led support groups for youth. Approximately one hundred additional LBGTQ youth in need will benefit from these offerings.
BHN cites collaboration with community partners as critical to success. BHN staff will extend community trainings to local organizations that interface with LGBTQ youth, including Springfield Public Schools, Planned Parenthood, Baystate Health, and Holyoke Hospital providers. Through training programs, community partners will learn core competencies around providing services to LGBTQ youth. Once trained, community partners will identify and refer LGBTQ youth in need for more comprehensive behavioral health services through BHN. These training programs will promote community awareness around the unique challenges this population faces, making the impact of the program that much more powerful.
Health New England's Community Benefits Committee is excited to watch the development of the Empowerment Project unfold. Thank you Behavioral Health Network for your hard work to improve the lives of LGBTQ youth in our community.
---